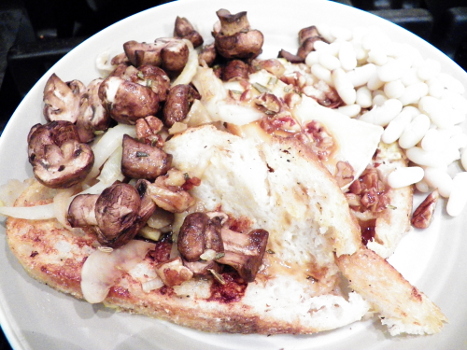 Hello there. It's been a while since I've shared a recipe. Summer, maybe? That raspberry cake, I think. How do those food bloggers do it, recipes galore? I am a long playing record on repeat. Drop the needle in the groove and watch me spin and spin until I start all over again. I like spinning. Twirling. Dancing. Laughing. And eating, especially meals like this.
The hubster and I have made a concerted effort, as of late, to further reduce our carbon footprint. Since our house is already chilly, he rides a bicycle to work most days, and I border on fanatical when it comes to recycling, composting, buying in bulk, organic, and all that jazz, eating less meat was the next logical step. We're mostly weekend breakfast carnivores these days. The pull of chicken apple sausage and the spatter and hiss of bacon like water at the oasis. So a multitude of veggies, grains, and beans, oh, and cheese.
For this meal, I sauteed mushrooms and thinly sliced fennel bulb to perfection. A pinch of salt, grind of pepper, and a few fresh rosemary leaves the only seasoning. Piled on French toast dotted with melted brie. Drizzled with a teeny bit of syrup. A side of flageolets with a touch of butter and salt. Dinner, brunch, breakfast, anyone? Come on over!