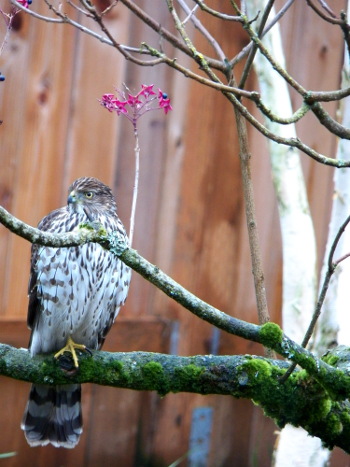 I don't actually know that this is a Lady Hawk, not being an ornithologist, and all, but a creature this regal needs a title other than it. She visited for her Sunday lunch, though we didn't see her do anything but chase off a crow.
I hope you're having a week full of wonder. We are hosting Lori and crew this evening for a Southwestern Supper extraordinare. It is 9:55, and I've already baked a cake, made dough for fresh tortillas, and have a pot of green chile and pinto beans bubbling on the stove. The house smells SO good!
We'll be here for Thanksgiving, me and my favorite sous chef making dinner together. Roasted squash ravioli with brown butter sage sauce, green beans, home made bread, crispy kale, cranberry sauce (the jellied kind, because it rocks, no matter what people say), and the hubster's favorite pecan pie. I think there will be a fire, too, two humans and two felines cuddled in close proximity.
I hope you have a marvelous holiday and know that I'm most grateful for your gentle presence in my life.
Big Hug!
…
Update: Definitely not the same bird! The memory is not what it once was. A Sharp Shinned Hawk or juvenile Cooper's Hawk are my best guesses. A new visitor nonetheless, huzzah!