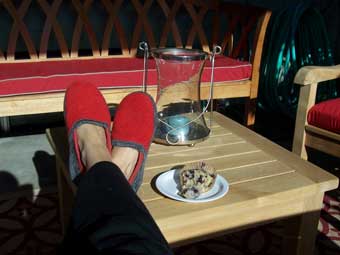 I bought some buttermilk for a recipe that I made for our party the weekend before last and had a lot left over, so I did my best to make use of it – buttermilk salad dressing, buttermilk pancakes, and these rather tasty blueberry muffins.  This recipe makes a dozen, and more if you're like me and don't fill the cups all the way.  They are muffins at their simple best, not too sweet, no crumb toppings or spices necessary – good for sharing with your best friend, feet up, enjoying the morning sun.
Blueberry Muffins
adapted from Martha Stewart Holiday Baking 2002
1 1/4 cups unsalted butter (I know – zowie!)
2 1/4 cups flour
2/3 cup sugar
1 tablespoon baking powder
1/4 teaspoon salt
2 teaspoons vanilla
2 eggs
3/4 cup buttermilk
1 cup fresh or frozen blueberries
Preheat oven to 350.  Grease or line muffin tin.  Place butter in a small saucepan and melt over low heat.  Allow to cool.  Sift dry ingredients into a large bowl.  Add the butter, vanilla, eggs, and buttermilk.  Stir just until combined.  The batter should be slightly lumpy.  Carefully fold in the berries.  Fill muffin cups completely.  Bake until golden, about 25-30 minutes.
Eat them while they are warm, if you can, and it will be a good morning indeed!
Also, a sugar update:  I had a bender about two weeks ago, eating two servings of rice pudding and some cake, along with samples of every cookie I baked for the party.  I also ate two of these muffins.  Oh golly to be perfectly steady in my saying no!  I suppose life is too sweet, in general, for that…