A couple of weeks ago, the G-Man and I went out with our good friends Bridget and Eric, something we'd been wanting to do for ages, but every time we tried, it didn't work out.  Wouldn't you know that this was one of those last minute arrangements that comes together perfectly?  I love when life places all the little ducks in a row and I benefit from it.
Our first stop was Bridget's mighty fine choice, the Gilt Club, where we enjoyed stellar service from an uber cute and funny waitress and a super fine happy hour menu (I love adjectives!):  A Moscow Mule (kapow!) served in the copper cup and an Appletini (made with real apple, no frightening neon green concoctions) were the beverage highlights.  We also got some delicious salads, cute mini burgers with drippy gruyere cheese and yummy fries, and  manchego cheese fritters that I insisted on calling cheese balls.  "Come on Eric, taste the balls, they're delicious."  I know, sometimes I'm beyond silly and bordering on impossible.  It's my way.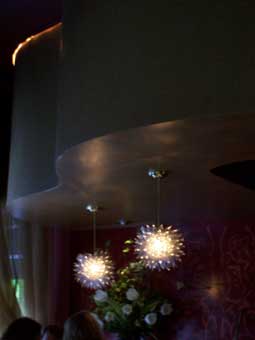 After that, we walked two short blocks to the Augen Gallery where we enjoyed Morgan Walker's exhibition Rodeo Combinations.  Here's where I struggle a little bit to describe it:  Not quite whimsical, but there is certainly great humor in it (I laughed!).  I like how many of the paintings are a story for which the viewer chooses the length.  Gaze for a moment at the title and the composition and receive the Cliff's Notes version.  Stand a bit longer and the the tale grows longer, more textured, and complex.  Speaking of texture, that's something else I like about the paintings, I think he must load his brush with a lot of paint and then make very small brush strokes because the canvasses are not at all flat, but very much the topographical versions of the stories he's telling.  Yet it's not too much either.  There's a subtlety to it.
One of the highlights, I might add, wasn't even a painting, but a blueprint of thought.  Morgan, over a period of a year and a half,  wrote down connections between philosophy and surfing that included Arnold Schwarzenegger, Ronald Reagan, Wittgenstein, and, of course, Gidget.  To say I was inspired is putting it mildly.  I love getting glimpses into people's minds.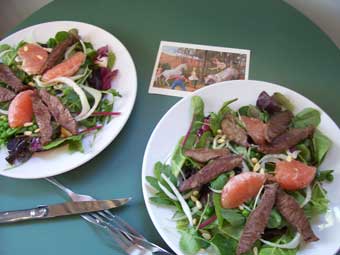 Finally, speaking of inspired, these are salads I made after the one that I had at the Gilt Club.  Their version didn't have steak on it, but I needed some protein.  It is a mouth watering combination of baby greens, watercress, peas, shaved fennel, grapefruit, and pine nuts, tossed in a simple balsamic vinaigrette.  The post card is from Morgan's show, and since it is called Rodeo Combinations, I've got to say, "Giddy-up!"