Happy Monday Gentle Readers!
As I am having some technical difficulties (me being not as tech savvy as the hubster), the post I originally intended to publish today got put on the back burner, so here are the highlights from our first Portland City Walks adventure. It really showcases some of the marvelous diversity in landscape and architecture here in the City of Roses.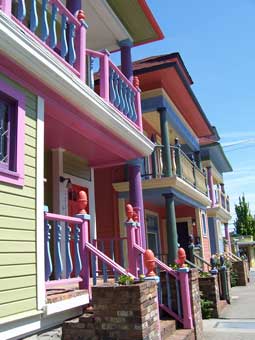 These wonderful sherbet colored Victorian row houses are not actually on the walking tour, but I have been wanting to photograph them for a long time.  They're on Everett, just west of I-405.  Don't you want a bowl of ice cream now or maybe a handful of Easter candies?  Yum!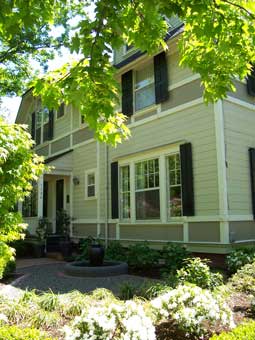 A rather stately home with a perfectly manicured front garden.  Back when I was taking ages to decide on paint colors for our house, I considered this combination.  Though I chose differently, I think it is quite handsome.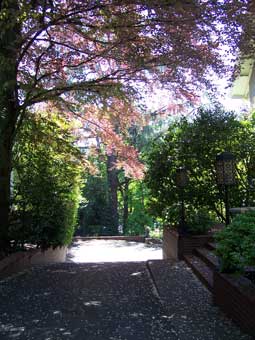 As I mentioned in this post, it is such a treat to learn something new about the city that is our home.  We were delighted to walk through the densely packed residences without an actual street to separate them, just a fantastic collection of of shaded and sunny pathways.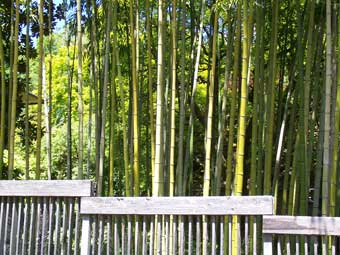 This timber bamboo, probably fifty feet tall, is a wonderfully modern surprise, especially among all the grand 100 year old houses.  It makes a subtle gonging in the breeze.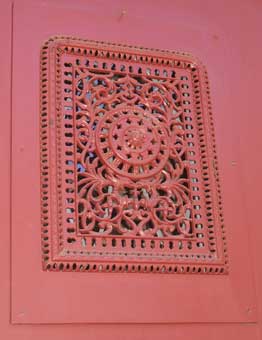 This is on the front door of a house with scarcely a sidewalk in front of it.  With the close proximity, I can see how tempting it would be for a passerby to want to peek in and the reason for such an elaborate "peep hole" to discourage it.  I think they may have used an old heat register, which is quite clever, don't you think?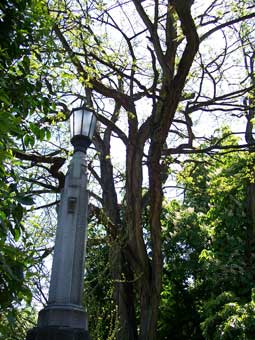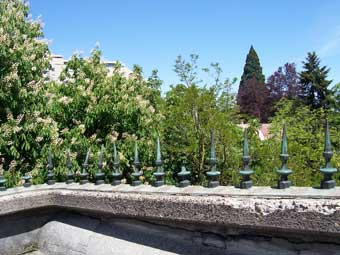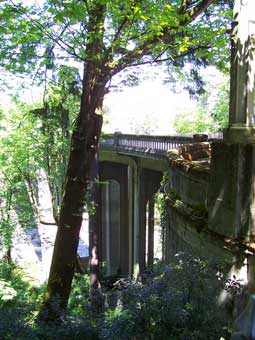 The Vista Avenue Bridge – lovely streetlamps illuminate it, ancient spikes decorate it, and grand trees shade the entrances.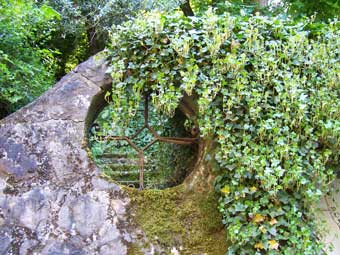 Oh goodness, isn't this straight out of The Secret Garden?  One of my favorite books of childhood, I read it over and over again, along with Charlie and The Chocolate Factory.  I loved imagining the beautiful worlds, their flower filled and candy coated goodness.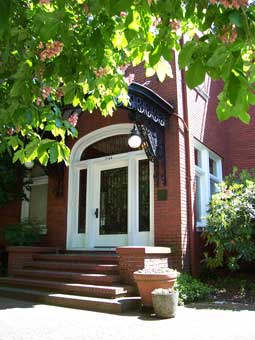 Can you imagine having such a grand entrance to your home?  I think I'd want to dress up all the time and answer the door in gloves up to my elbows – so fancy!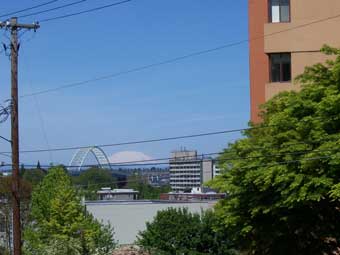 Wires, wires, and more wires, along with the Fremont Bridge and the snowy glow of Mount Saint Helen's.  A great view!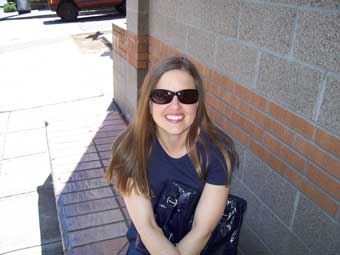 That's all folks, time to ride home…