Good afternoon, gentle readers.  I hope this post finds you well and that you had a weekend as lovely as mine.  We had fine enough weather for a walk to the Academy to see The Informant! with Matt Damon.  I must admit that, while the movie was good, as was the pizza and popcorn, it didn't hold a candle to the walk.  Though it was rather brisk out, and the skies were grey, it never rained, and the air smelled so wonderful – leaves, pine, and wood smoke.  As well, we found roads we had never taken before and discovered some pretty neat houses and fine landscaping in the process.
We saw the charming toadstools painted on a telephone pole just down the street from our friend Mara's house (at which we did not stop but waved hello).  How kind and generous of the person who took the time to add this charming bit of art to our Portland streets.  I love how the world is full of delights like this, just waiting for us to notice.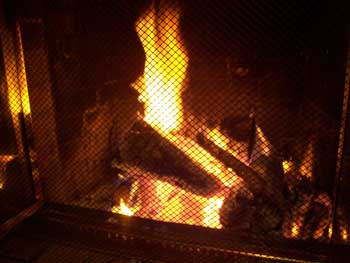 When we got home, it was rather chilly, so we cozied up for our first fire of the season, reading books, listening to our collection of Bob Dylan, snuggling with cats and each other, and relishing a life that couldn't be much more perfect.