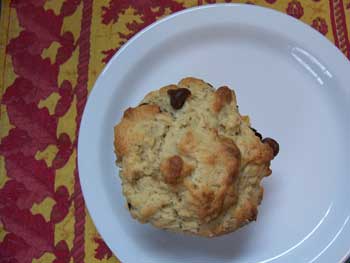 These are perfect seasonal muffins, delicious plain or with butter and honey.
1  cup flour
3/4 cup whole wheat flour (or use all regular – I like a little extra fiber)
1/3 cup sugar (these aren't very sweet, so if you like a sweet muffin, use 1/2 cup)
2 1/2 teaspoons baking powder
1/2 teaspoon salt
1/4 cup chopped walnuts
1/4 cup dried cranberries
1/4 cup chocolate chips (I made this addition for the hubster – add more cranberries and walnuts, if you prefer)
1/2 cup milk
1/3 cup oil
1/4 cup orange juice
zest of 1/2 of an orange
Sift together the flour, sugar, baking powder, and salt in a medium bowl, set aside.  Blend milk, egg, oil, orange juice and zest.  Pour into flour mixture and stir until moistened.  Mix in walnuts, cranberries, and chocolate chips.  Fill muffin cups (greased or lined, your choice), and bake at 400 for 20-25 minutes.  Makes 9-12, depending on how you fill your muffin cups.
Enjoy!