You are currently browsing the monthly archive for June 2009.

I made this.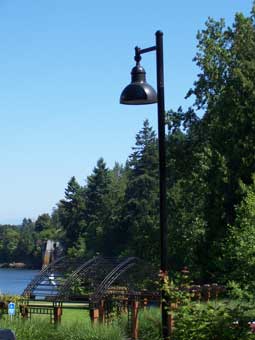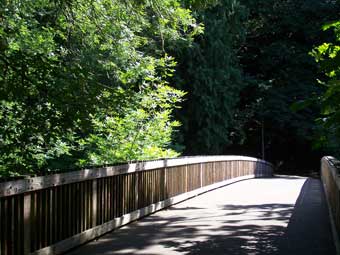 When I taught English at the high schools in Lake Oswego, the kids referred to their lives there as being "inside the bubble."  I came to believe this as well, as Lake Oswego is an interesting place of money, privilege, power, and very little crime.  Unlike our neighborhood, the homes are all nice, with manicured gardens and expensive cars in the garage (not on the lawn as a select few do around here, sigh).  My kids, so accustomed to life "inside" were often quite worried about my safety as I lived in Portland where the terrible things happened.  "Oh Ms. Sohn, isn't that a bad neighborhood?  Aren't you afraid?"  In response, I would thank them for caring and assure them that I was rather fearless by nature (I did teach high school, after all) and felt safe, too.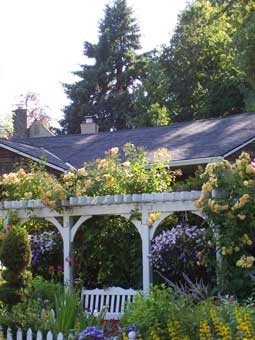 Though they had many things I could only dream about at that age, my students were typical young people.  They were sweet, smart (though sometimes altogether stupid), hilarious, sassy, sometimes unruly, and exhibited all of the behaviors associated with teenagers: trying to find their place in the world, the drama of relationships, and getting into all manner of trouble.  In spite of or despite this, I'm not sure which, I loved them all, and did my best to teach them everything I knew.
Anyhoo, we ventured to the bubble for the 46th annual Festival of the Arts on Saturday afternoon.  It was a perfect day – warm and sunny.  As for the festival itself, it is quite nice, not too big, but big enough not to have Mama's weird homemade junk, though I did see some rather creepy looking sculptures (to each their own).  Our friend Jamee was one of the many talented artists there and had her usual display of beautiful paintings.  I hope she did well.  The highlight, however, had to be the incredible showcase of mosaics with many unique interpretations of the ancient art.  I said "Wow!" a lot.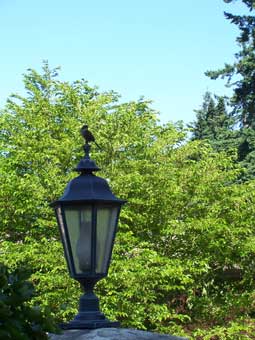 After perusing the art and buying a neat vase from the Yoga Goat, we completed Portland City Walk No. 18.  It led us through a tour of the town, wandering down roads I had never taken when I taught there.  It is a beautiful place with homes classic to modern and small to gigantic (I should say small for Lake Oswego because what looks little there is pretty normal, even slightly big, in our neighborhood), lots of mature trees, lovely views of the lake, the surrounding hills, Mount Hood, and many, many birds, like the Song Sparrow above, singing happily.
Ahh, another perfect Saturday – hope yours was too!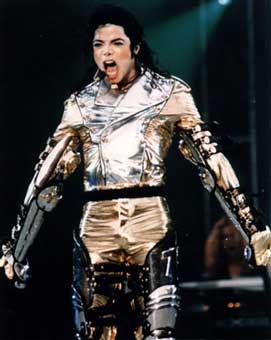 The man defied racial barriers, musical traditions, and quite often, logic.  Thank you for the memories, the dance moves, and, most of all, that voice!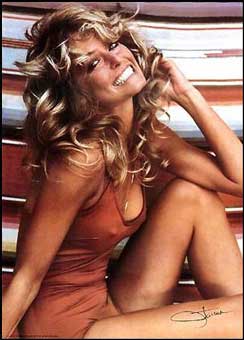 She inspired many a haircut and a swimsuit, was a great Angel, and had a magical smile.
Peace in the hereafter…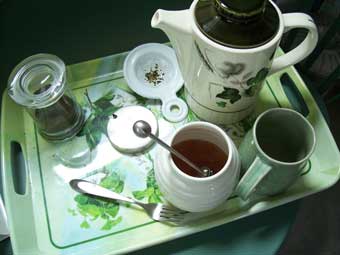 The real voyage of discovery consists not in seeking new landscapes but in having new eyes.
Marcel Proust
Happy Birthday Chaz and Alan!
This is what kept today's post on the back burner.  I've never embedded a video before and needed a little help, though, thankfully, not as much as I thought.  I am a college graduate, after all.  I took this last Friday afternoon.  I stood by the window for quite a while (though the video is only forty seconds), awed and delighted by the volume of the birdsong and the gentle patter of rain drops.  Milo is pretty cute too, cleaning his little toes.  The sight of it makes me so happy.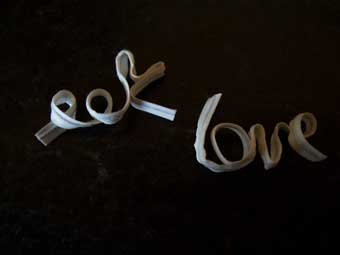 These are the twist ties used to bind the napkin and silverware at one of our favorite breakfast places, Broder.  It is always fun to make things with them while in eager anticipation of the food to come.  I've fashioned rings, hearts, single letters, waves, and Saturday, for the first time, words.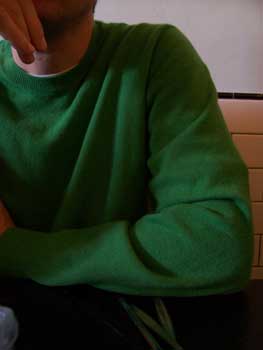 This is another one of my favorite sights, the hubster.  I, rather sneakily, took this photo after taking the one above.  Then it was time to eat:  the Pytti Panni for Greg – I think I'm spelling it right.  It is a yummy hash with bacon and pork and eggs over the top served with hearty walnut bread.  I had an utterly creamy and delicious tart with mushrooms and Meunster cheese with a nice green salad and a potato pancake, though, as I have turned into a total creature of habit, I kind of wished I had gotten my usual breakfast board instead – smoked trout, grapefruit, yogurt, cheese, and rye crisp.  There was coffee with cream too, of course, though decaf.  I've got too much energy for caffeine.  Seriously.
Happy Monday Gentle Readers!
As I am having some technical difficulties (me being not as tech savvy as the hubster), the post I originally intended to publish today got put on the back burner, so here are the highlights from our first Portland City Walks adventure. It really showcases some of the marvelous diversity in landscape and architecture here in the City of Roses.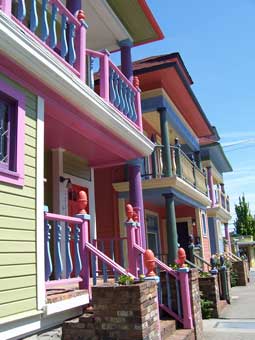 These wonderful sherbet colored Victorian row houses are not actually on the walking tour, but I have been wanting to photograph them for a long time.  They're on Everett, just west of I-405.  Don't you want a bowl of ice cream now or maybe a handful of Easter candies?  Yum!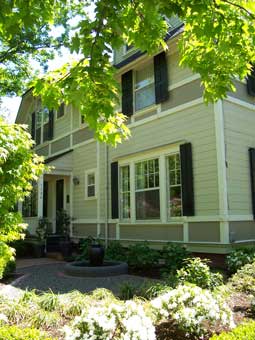 A rather stately home with a perfectly manicured front garden.  Back when I was taking ages to decide on paint colors for our house, I considered this combination.  Though I chose differently, I think it is quite handsome.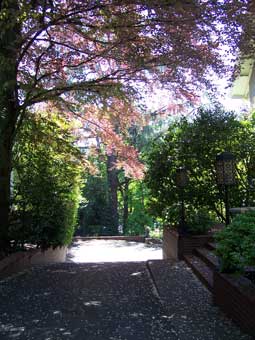 As I mentioned in this post, it is such a treat to learn something new about the city that is our home.  We were delighted to walk through the densely packed residences without an actual street to separate them, just a fantastic collection of of shaded and sunny pathways.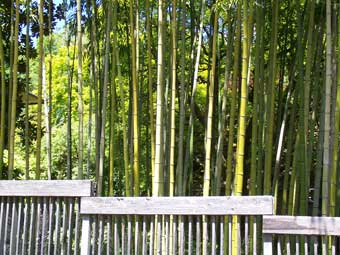 This timber bamboo, probably fifty feet tall, is a wonderfully modern surprise, especially among all the grand 100 year old houses.  It makes a subtle gonging in the breeze.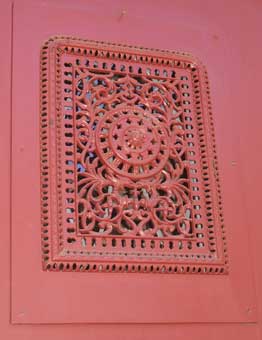 This is on the front door of a house with scarcely a sidewalk in front of it.  With the close proximity, I can see how tempting it would be for a passerby to want to peek in and the reason for such an elaborate "peep hole" to discourage it.  I think they may have used an old heat register, which is quite clever, don't you think?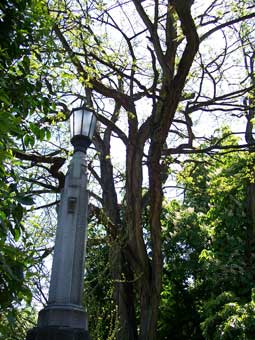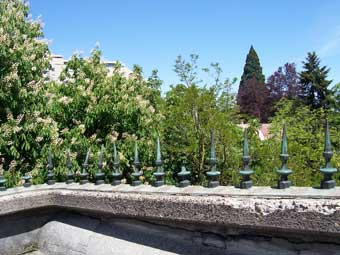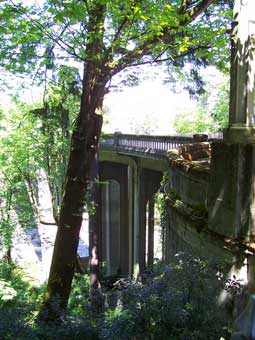 The Vista Avenue Bridge – lovely streetlamps illuminate it, ancient spikes decorate it, and grand trees shade the entrances.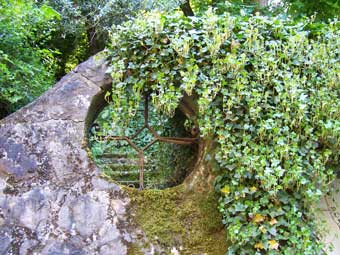 Oh goodness, isn't this straight out of The Secret Garden?  One of my favorite books of childhood, I read it over and over again, along with Charlie and The Chocolate Factory.  I loved imagining the beautiful worlds, their flower filled and candy coated goodness.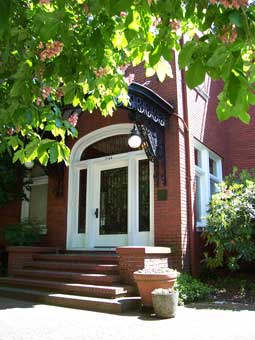 Can you imagine having such a grand entrance to your home?  I think I'd want to dress up all the time and answer the door in gloves up to my elbows – so fancy!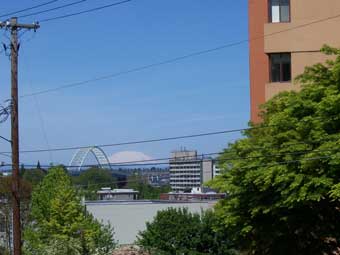 Wires, wires, and more wires, along with the Fremont Bridge and the snowy glow of Mount Saint Helen's.  A great view!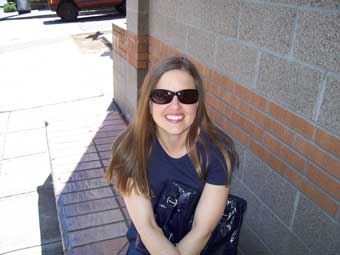 That's all folks, time to ride home…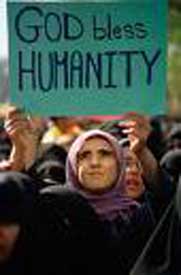 We shall find peace. We shall hear angels. We shall see the sky sparkling with diamonds.
Anton Checkov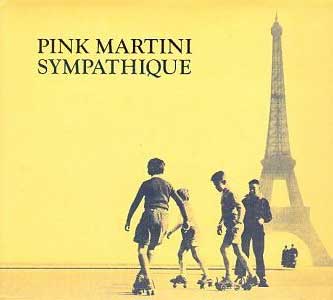 Holy smokes!  Is it Friday already?  Where did the week go, anyway?  I hope the weekend holds something special in store for you.  We've got big plans to fix the toilet.  Yep, I said the toilet.  I bought a new seat and the wax ring is starting to leak.  Please cross your fingers that it seals on the first get-go because moving a toilet is no fun – heavy and awkward.  At least we've got good music to listen to while were working, however, as I've deemed the weekend a Pink Martini.
Pink Martini is the sound of brass, the thrumming of strings, drumming of drums, tinkling of ivory, and a delightful voice that makes me so very happy, a dizzy, giggly, effervescent kind of happy of the highest order, and this, Sympathique is their first and my very favorite album.  It starts with a flourish of harp strings and the thrill of China's glorious voice on "Amado Mio," takes us through a marvelous party of sounds and toe taps before ending the evening with what else, a sweet "Lullaby," of course.
For Portlanders like myself, Pink Martini is extra special, because far from offering awesome lyrics, stellar singing, and highly danceable songs, they're also our very own, the local band gone gold around the world.  They have no fear of language or unusual instruments, singing in French (Beh oui!), Spanish (Si!), Arabic (Inshallah), Japanese (Arigato), and more. They've also got incredibly big hearts too, playing benefits for many local charities, including one of my favorite organizations, REACH Community Development.
Even if I weren't from Portland or a supporter of REACH, Pink Martini would still be on my list of favorites.  They're that good.  Oh, and have I mentioned how fantastic they are live?  If you ever have the opportunity, grab it with both hands because the band does not disappoint.  They'll have you singing at the top of your voice and wiggling wildly in your seat.  Well, at least that's what happens to me!
Have a lovely weekend…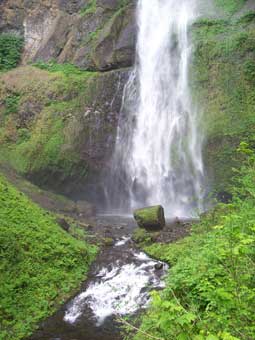 Have patience with everything that remains unsolved in your heart.  Try to love the questions themselves, like locked rooms and books written in a foreign language.
Rainier Maria Rilke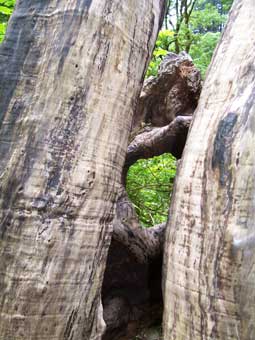 Sanity may be madness, but the maddest of all is to see life as it is and not as it should be. ~ Don Quixote
I've been vacillating between various states of madness, excitement, and sadness these past days since my diagnosis.  Madness that I am not actually insane, the pain I feel, and have felt, all these days and years is as real as the breath I am exhaling, the art on the walls, and the downy clouds in the sky.
Excitement that the pain angrily pulsing like Metallica in my abdomen will end soon.  With it will come a genuine renaissance, me without the questions, wonderings, and worryings worn like the pages of an oft read letter.  These thoughts, feelings, pokings and proddings will be replaced with a lightness in my body and an ease so staggeringly simple that I cannot quite fathom it at present.
And sadness.  Sadness that the essential parts that make me a woman and a mother, of sorts, to the cats, plants, flowers, and bees, were all these years, utterly incapable of creating a human life.  Despite the fact that I never wanted them to anyway.
Then, in this pattern, I come back to Quixote's maddest of all and embrace my life just as it is, without shoulds.  I love this pain that causes me to question all that I know.  I love this pain that says it is okay to ask for help.  I love this pain that makes my body writhe and jerk and laugh at the sight of itself.  I love this pain that teaches me to hold closer those I love and let go of those I don't or can't.
Then, there is this – that my Creator had the vision and my young ears the hearing to heed the message:  You shall not have children, nor an empty life but one full of laughter, friends, song, beautiful words, and love, love most of all.