You are currently browsing the monthly archive for May 2010.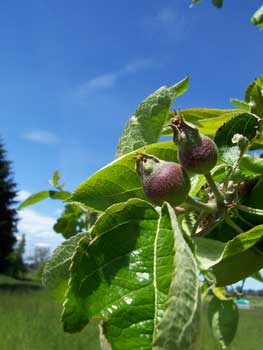 Have the courage of your desire.
George R. Gissing
Tags: Quoting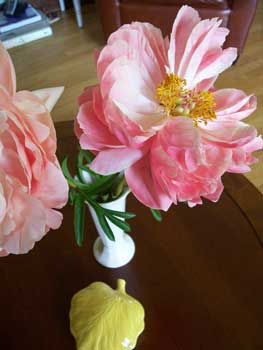 Hello friends!   Thanks for all of the well wishes.  I am feeling better, though my head still hurts a bit, yuck.  Soon it will be over.  I just know it.
As I am generally a woman of my word, here are, as promised, more peony pictures!  The first one is of the Coral Charm variety.  It gets enormous and ever so pale.  By the time the petals fall, it is a gorgeous peach champagne color.  I love it!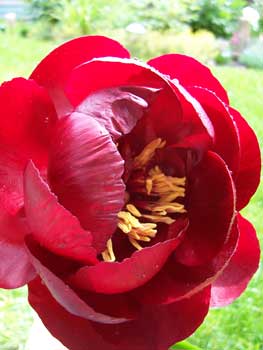 Next is the lovely Buckeye Belle.  She is the hubster's favorite, but, sadly, didn't make but two blooms this year.  Everyone else is going like gangbusters, so I guess she is a bit shy.  Hopefully she will break out of her shell next year.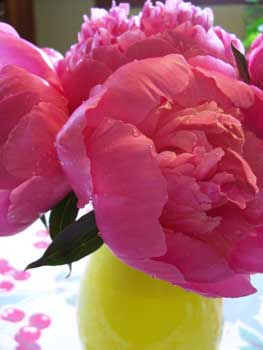 I have no idea what this last variety is called, as I didn't buy the plant from the Adelman Farm, so I am calling them Bubble Gum.  They look the part, don't they?  I love them in that bright yellow vase, too, so happy!
Gilion – hopefully yours have started to bloom, though not all of mine have.  I'm lucky to have a long succession of beautiful flowers.  It is such a treat!
And Lori, your hubby is right, with peonies come ants.  Without them, there would be no flowers.  I am just very careful.   Before I bring the peonies in, I shake them pretty vigorously, then blow off any hangers-on.  It's not generally a problem. Sometimes one will slip by me, but I just take the offender back outside and that's that.
Now that I've got our heads full of beautiful flowers, has anyone ever visited Schreiner's Iris Gardens?  I just visited their website, and it seems they aren't too far from Adelman's.  My friend Sarah and I saw the most exquisite orange colored iris while out walking the other day, and I would love to have one.  Perhaps I will venture out this weekend, and see what I can find.  Field trip!
Here's hoping everyone's day is full of flowers…
I've got a slew of recipes to tantalize your taste buds today.  Plus, apparently, a little alliteration.  Silly me.  I also have a whopper of a headache, a slight fever, an earache, and swollen tonsils, so if this wanders off into the territory of the bizarre, don't be surprised.  I am not myself.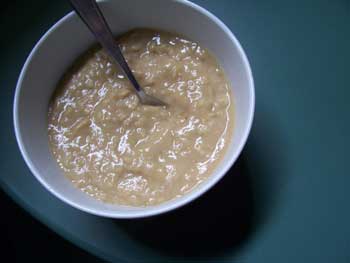 First off, oatmeal (sorry Sarah – I think you'll like the rest!), but, though it may look it, it is no ordinary oatmeal.  No sirree, this is something special brought on by hunger, of course, a lack of bacon, an ugly banana, and a need for protein.
Ginger Banana Oatmeal
oatmeal
water
salt
powdered ginger
banana(s)
egg(s)
milk
Start making the oatmeal – add some salt and ginger, to your taste.  While that is going, puree a banana (I used my hand blender in a large measuring cup), add an egg (more if you're making it for more than two people), and some milk.  Make it as thick or thin as you like.  Just make sure you mix it thoroughly.   Once the oatmeal is finished, add about one third of it to the banana mixture, and, again, mix thoroughly.  Then add this to the original pot of oatmeal, and stir, stir, stir.  If your banana was as ugly and sweet as ours was, you won't need much sweetener, if any.  This is sooo good, like a breakfast pudding, but loaded with fiber.  A happy start to the day.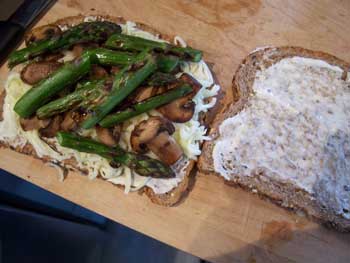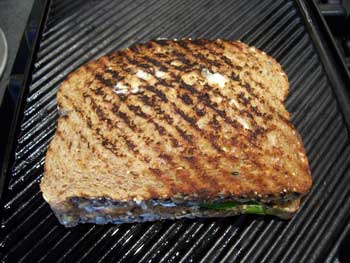 Now it is lunch time and spring time!  Perfect for asparagus, and mushrooms, and exclamation points!
Grilled Asparagus, Mushroom, and Cheese Sandwiches
Sliced Bread
mayo
Greek yogurt
creamy horseradish
Dijon mustard
salt
pepper
bite sizes of asparagus (cooked however you like – mine was roasted with EVOO, salt, and pepper)
sliced mushrooms (sauteed in a little butter or EVOO)
Havarti Cheese, grated (I learned this from Sarah – it melts so nicely!  I can't believe I hadn't thought of it before.)
Start heating up your pan over medium heat.  I use a Le Creuset that covers two burners.  It is the tops!  Make the spread -  I mix equal parts of mayo and yogurt (this makes it light and creamy), then add little bits of the rest until it tastes just right, being careful with the mustard and horseradish, unless you like to cry while eating.  Save when they are tears of joy, I am not keen on this.  Construct your sandwich, heat, and eat.  It tastes great with potato chips and a crisp apple.  Some sparkling apple juice or wine probably wouldn't be bad either.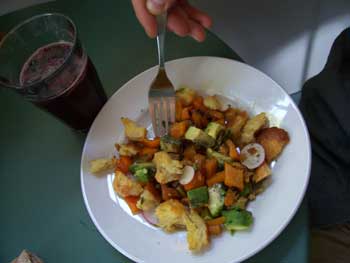 Tastes Like Sunshine Salad
One lovely Friday evening, we weren't terribly hungry, and I had a small but beautiful assortment of produce in the fridge, but no lettuce or tomato, and stale heels of bread.  It's a sunshine salad!
Tear up stale bread into bite sized pieces.  Toss in olive oil (not too much).  Sprinkle with salt, pepper, and crushed dried rosemary.  Toast in the oven until golden brown.  Allow to cool.
I roasted the orange bell pepper over the burner and put it in a brown bag to sweat.  Meanwhile, I diced an avocado and sliced some radishes.  Rub the skin off the bell pepper and dice.  Arrange everything nicely on a plate, drizzle with vinegar (I like white balsamic), EVOO, and sprinkle with salt and pepper.  Drink with the next recipe – we did, and it was marvelous.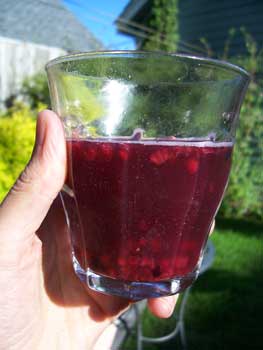 We had half a bottle of red wine that had been sitting for a few days, not exactly good to drink on its own, so I made a zippy sangria-type beverage.  I got out a pitcher and muddled frozen blueberries and raspberries (about 3/4 of a cup?) with a little frozen apple juice concentrate (a tablespoon?), then I added some Grand Marnier (splash!), brandy (splash!), the red wine, and a can of sparkling water.  Man was it good!
Enjoy!
Tags: Cooking and Baking, Recipes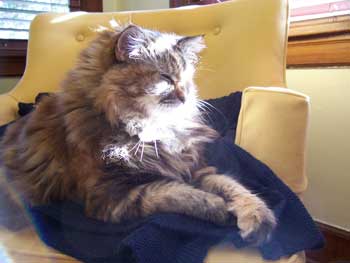 I will dare to just do what I do.  Be just what I am.  And Dance whenever I want to.
Beverly Williams
Tags: Quoting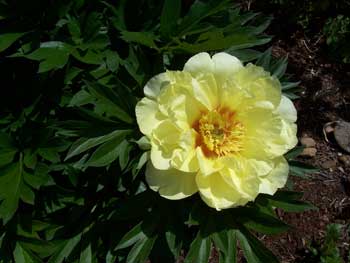 Beautiful Bartzella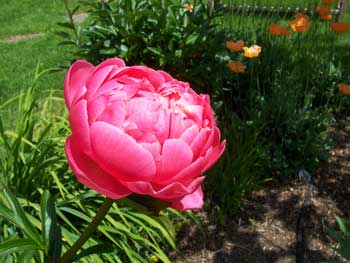 Cheery Coral Charm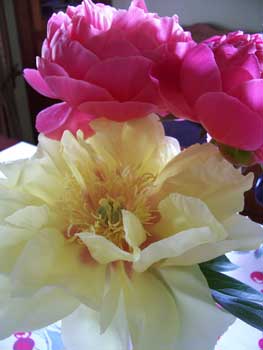 So pretty together…
It's peony season, my friends!  Aren't they lovely?  I don't have much to say about them, aside from the fact that they make me quite happy.  Oh, and by the by, there will be more photos.  As The Carpenters sang, "We've only just begun…"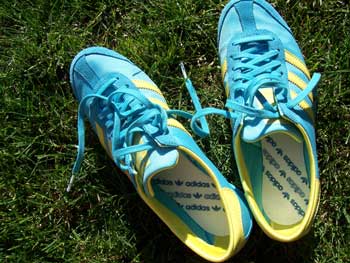 It all started with a new pair of shoes on an impossibly beautiful day…
"Addicted" – Amy Winehouse
"My Adidas" – Run D.M.C.
"Adios" – Glenn Miller
"Adriatic" – Lanterna
"Advent" – Dead Can Dance
"Ain't Talking 'Bout Love" – Van Halen (always make me think of Steve White -  hi friend!)
"Airbag" – Radiohead
"Alabama Song" – The Doors (must have whiskey – oh you know why!)
"Alberta" – Eric Clapton
"Alive & Kicking" – Simple Minds
"All Along the Watchtower" – Jimi Hendrix
"All Apologies" – Nirvana
"All Blues" – Miles Davis
"Allegria" – Gipsy Kings
"All My Life" – Echo and the Bunnymen
"All the Thing's You Are" – Ella Fitzgerald
"America" – Simon & Garfunkel
"Amor Em Paz" – Antonio Carlos Jobim (I'll bet Don Draper liked this…)
"Amoreena" – Elton John
"Antarctica Echoes" – Vangelis (Yes, I do know how cheesy I am)
"Any Colour You Like" – Pink Floyd
"April in Paris" – Thelonius Monk
"As Heaven is Wide" – Garbage
"Atomium" – Autour de Lucie
"Autosuggestion" – Joy Division (lose some sleep and say you tried)
"Azalea" – Louis Armstrong
Tags: Music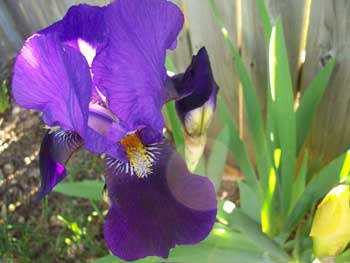 Let nothing dim the light that shines from within.
Maya Angelou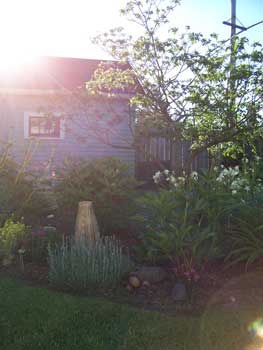 This past Sunday, I got up early and roamed the garden while the hubster slept.  I love doing this.  I love looking at all that is growing, and sometimes dying, and admiring the work of nearly twelve years.  I love that there is birdsong and the buzz of insects and hummingbirds, and evidence of things unseen, like snail trails, and paw prints, and empty spider webs.  While there remains much to do, as I have such grand plans, I am always energized by my work in the garden.  I love the meditative quality of pulling weeds, mowing grass, watering, planting, the ceaseless cycles.  They remind me of my own body, mind, and spirit, and how there is always more to do, see, and grow, and that the effort is always worthwhile and beautiful, no matter how challenging.
Atlantic Poppy
Symbiosis: No Ants, No Peonies.
Armeria – like miniature garden pompoms cheering grow,grow, grow!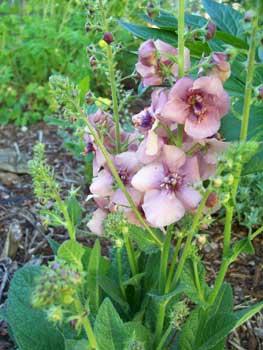 Verbascum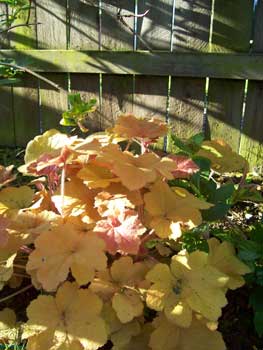 Caramel Coral Bells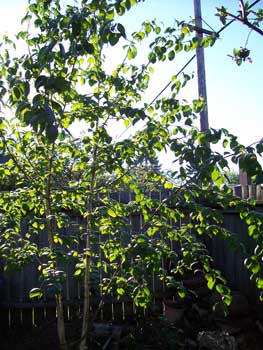 Sunlight through the birch.  I am looking forward to when it is TALL.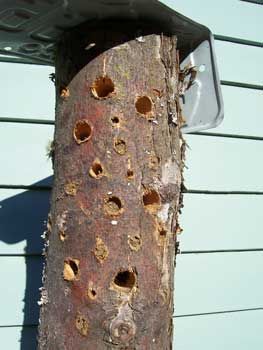 A mason bee has set up house!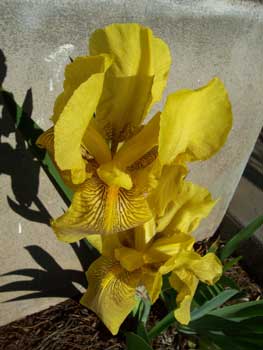 Yellow Iris smells so very good.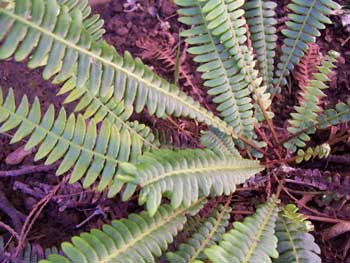 Deer fern
This, my friends is a slice of terrific banana cake.  I've adapted it from what I think is a pretty terrific book, Classic Home Desserts, by the late Richard Sax.  My number one favorite in this department, and one that I've had since 1994, longer than any other, of any kind, I might add.  As someone who is a great purger, this is saying a lot.  This book, no doubt, will be with me until it is coming apart at the seams, all 688 glorious pages.  It is full of great stories and historic recipes, not only a treasure to bake from but one to read, as well.  I've made countless recipes from it, all went off without a hitch and tasted even better (two other examples are here and here).  How is that for a product endorsement?  Fortunately, the book is not out of print, but the latest edition, from 2000, is, in my opinion, prohibitively expensive, at least on Amazon ($45 used – $99 new, zoiks!), so, if you'd like to give it a try, head to Powell's (I've seen used copies for $25), your local library, or cross your fingers that they print another edition.
Anyway, to the recipe.  I've adapted it from his original, of course, for it is my way, but I honestly don't think he (or you) will mind.  An additional bit, part of my love for this cake stems from the fact that it is made in a Bundt style pan.  Have I ever spoken of my love for the Bundt pan?  Dessert is somehow elevated when it comes out of a pan shaped like that, truly.
Banana Cake
1 cup all-purpose flour
1 cup whole wheat flour
2 teaspoons baking powder
2 teaspoons baking soda
1/4 teaspoon salt
1 1/2 sticks butter, softened or, if you are short on time, grate it fine with a cheese grater
1 cup sugar
3 eggs
2 teaspoons vanilla
3/4 cup ripe mashed banana (about 2)
1/4 cup, plus 2 tablespoons sour cream or plain yogurt
Preheat the oven to 350.  Generously butter a 10″ tube or Bundt pan.  Sift the flour with the baking powder, baking soda, and salt into a small bowl.  Set aside.
Beat the butter with an electric mixer at medium-high speed until very light.  Gradually add the sugar and continue to beat until fluffy.  Beat in the eggs, one by one; beat in the vanilla.  Put mixer on the lowest speed and add half of the flour mixture, alternating with the banana.  Add the remaining flour, alternating with the sour cream or yogurt, in batches.  Do not overmix.  Pour the batter into the prepared pan.
Bake until a toothpick inserted in the center comes out clean, about 50-55 minutes.  Cool on a wire rack for 10-15 minutes.  Carefully unmold the cake and cool to room temperature.  Eat plain, dust with powdered sugar, or frost.  This is great with a caramel, vanilla, or chocolate frosting.  I'll bet it would be great with a cream cheese frosting, too.  You can't go wrong!  Like the picture, it also tastes great with coffee.
Enjoy!
Tags: Books, Cooking and Baking, Reading, Recipes
I went to Nia class this morning, followed by my first foray in to Zumba.  It was fun and silly and sweaty and made me think of this great poem.  Sorry there's no photo.  I have an old one of me dancing on my Nana's grave (in a good way), but I can't find it, so you'll have to create your own picture in your mind.
I know the voice of depression
Still calls to you.
I know those habits that can ruin your life
Still send their invitations.
But you are with the friend now
And look so much stronger.
You can stay that way
And even bloom!
Keep squeezing drops of the sun
From your prayers and work and music
And from your companions beautiful laughter.
Keep squeezing drops of the sun
From the sacred hands and glance of your beloved,
And, my dear,
From the most insignificant movements
Of your own holy body.
Learn to recognize the counterfeit coins
That may buy you just a moment of pleasure,
But then drag you for days
Like a broken man
Behind a farting camel.
You are with the old friend now.
Learn what actions of yours delight him.
What actions of yours bring freedom
And love.
Whenever you say God's name, dear pilgrim,
My ears wish my head was missing,
So they could finally kiss each other
And applaud all your nourishing wisdom!
Oh keep squeezing drops of the sun
From your prayers and work and music
And from your companions beautiful laughter.
And from the most insignificant movements
Of your own holy body.
Now, sweet one,
Be wise.
Cast your votes for dancing!
Hafiz
Tags: Quoting