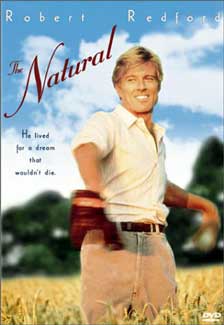 That, my friends, is one of my favorite lines from one of the best summer movies of all time, The Natural.  This is Pop Fisher's (Wilford Brimley) go-to phrase for difficult situations.  When I was young, and still living at home, we had this movie on VHS.  My brothers and I watched it so many times that we actually wore out the tape and had to buy another copy.  So, you could say that I'm kind of fond of it.
Roy Hobbs (Robert Redford) is an old man, by rookie baseball standards, who comes back to the game after a sixteen year hiatus brought on by unfortunate youthful naivete.  With the exception of Red (Richard Farnsworth), he's treated like a second class citizen until he proves his worth to manager Pop and the rest of the team, while also becoming a father figure to the bat-boy Bobby.
I love the promise of this story.  It deals with the complexities of love, failure, losing, and winning in a way that doesn't seem to sell the characters short or make them less real.  I love that a man can achieve a dream at thirty-five (this resonates even more now for personal reasons), and inspire others to be their best selves, while remaining fully human. 
The film is easy on the eyes as well.  The contrast of light and dark, great set decoration, and fabulous vintage clothing, to mention a few.  It also has fantastic cinematography. The opening shot and final home run almost make me want to pick up a bat and light up the sky with the possibilities of baseball.
Now's the perfect time for it.  I think it's meant to be watched on a warm summer afternoon, while sipping a glass of lemonade, before heading to the park to shag some flies, never forgetting that "losing is a disease."