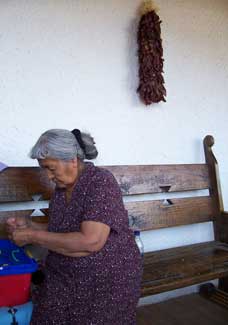 I believe one of the greatest privileges I have been given as a consumer is to meet with the people who have made or grown what I am purchasing.  I love talking with tradespeople of all kinds: farmers, designers, painters, potters, and jewelers.  They all have such interesting lives and passions, and it is a pleasure to share a moment with them, speaking earnestly about what it is they do.  It gives the purchase a certain weight and reverence.
I feel particularly lucky to have met with the artisans responsible for the creation of jewelry and pottery purchased on our trip.  This is Marie Moquino, of the Santo Domingo Pueblo.  She and her husband Tom, set out their wares at Ojo Caliente.  I bought the bracelet she is stringing in the photo and a beautiful gaspeite and onyx necklace.  I asked her if I could take a picture of her working, and thankfully, she agreed.  We learned that she and her husband have lived in New Mexico, as she says, "For life."  Kind and peaceful, we talked about their travels to various Pow-Wows around the west, relatives in Oregon, and the fact that they've been married for forty-nine years.  I hope to make this milestone with the joy they possessed.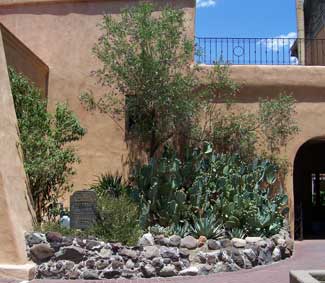 We also got lucky and ran into the man responsible for making the summer owl we purchased on our last visit, and then bought its counterpart, the winter owl.  He explained that there are only two owls, despite there being four seasons.  This is representative of his people and the union of opposites.  What is even more interesting is that we bought the summer owl on the opposite side of the plaza – talk about balance and union!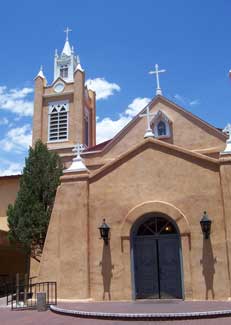 Here is some of the adobe architecture I love so much, but please don't ask me why.  I really can't say.  I just like it.  This and the above photo are the Church of San Felipe in Albuquerque.  This building was constructed in 1793 and is still going strong.  I wonder how long our little house will last?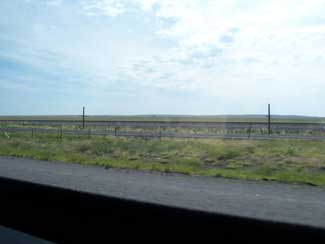 Finally, the return to Denver.  This was my eastern view of New Mexico.  Goodbye gorgeous!