Though, I don't care to live there again – snow, traffic, sprawl, and housing prices, returning to Denver is always a treat for me.  I love roaming around, looking for the new, and finding myself happy to see places that have not changed.  Look, there's the Wonder Bread factory!  I can see the School of Mines "M!"  Oh my goodness, there's the castle!  All of it brings back a flood of welcome memories and new ideas about the place that was once home.  
This is Paris on the Platte, my absolute favorite coffee shop in Denver.  I first went with friends on my sixteenth birthday – what a joyous discovery.  I spent many a late night – chatting, laughing, playing cards.  There are some changes, but it's heart remains the same – the checkerboard ceiling, the useless smokeeter, bread boards piled with savory goodness.   I am sipping a regular-old iced coffee here, but back in those early days, it was a Cafe Jacques with cinnamon and a slice of orange on top (no longer on the menu), with an occasional clove cigarette on the side.  I will say, no matter the drink, the company's always been divine.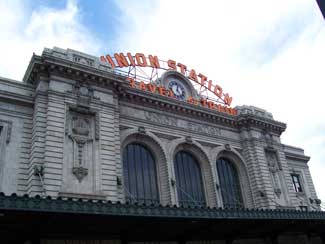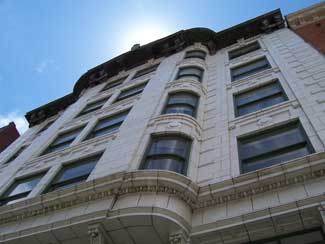 Back when the Wynkoop was one of the few "civilized" outposts in lower downtown (LoDo), I loved wandering the abandoned streets, particularly when I came upon Union Station and beautifully tiled buildings like these.  They don't make 'em like this anymore!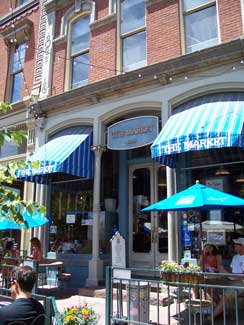 In college, The Market was my favorite hangout.  I could cross Auraria Parkway, and mosey down Larimer to grab a slice of quiche, a sweet, and an occasional coffee.  It really looks exactly the same.  The striped awning, the faded sign, the old-fashioned cases filled with cakes and deli selections, right down to the bright young faces behind the counters.  I'll bet some of them are just as surly, too!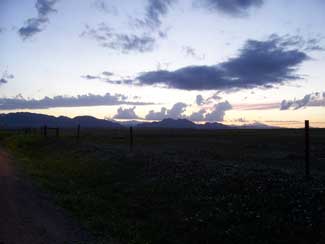 Sunset over the Flatirons.  In our restless teenage years, my friend Dionne and I used to drive this road in her Dodge Colt, at this very time of day.  We'd listen to KBCO on the AM dial, the signal fading with the light.  When it went silent, the sound of our voices and the soft rumble of the engine filled the air in the most pleasant fashion. 
Memories – all of them good.