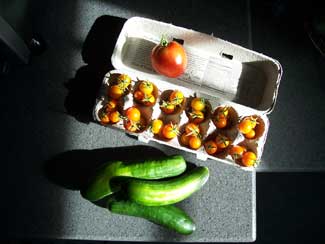 Perhaps it is the fact that I had three siblings growing up.  Perhaps it is just my nature, but I love to share.  I love baking up a big batch of cookies or a Bundt cake and delivering plates of their yummy goodness to the neighbors.  It's fun, and it feels good.  I like giving of myself in that way.  If I've got extra of anything, I really want someone else to have it.
So, not surprisingly, these tomatoes and cucumbers are  for sharing.  Later this morning, they will be heading to our favorite local bakery and cafe, Sweetness.  Since I've been doing my cleanse, I can't actually eat anything there (or the tomatoes, sigh), but I can share the bounty in our garden.
Since I am sharing, let me share with you the deliciousness that is Sweetness.  First, the name.  It's not just for the baked goods.  It's a tribute to Walter Peyton of "da Bears."  The equally sweet mother and daughter team, Gretchen and Kay, are big Chicago fans (check the bathroom out if you don't believe me).  They've also got some very lovely ladies working for them, as well: Alana, Kathleen, and Jenny.
It is a rather homey place – bright and cheery, with a good music selection, and goodies galore.  Gretchen arrives early every morning to bake everything.  There are many, many delectable sweets, of course, savories, sandwiches, omelets, and different brunch menu every weekend.  The coffee drinks are nothing to sneeze at either.
My favorites, however, are the FoPo Sandwich (salami, capers, roasted red peppers, artichoke hearts, cheese, all on a challah roll that was made by Gretchen), and the All Day Breakfast Sandwich (a yummy mixture of cream cheese and eggs, cheddar, topped with bacon on that yummy roll again).  I top mine with a little hot sauce and am in heaven.
Now for the sweets.  Every cookie they make is delicious – big, the perfect balance of chewy and crisp, great flavors: snickerdoodle, ginger, chocolate chip, oatmeal raisin, and the cowboy (nuts, chocolate chips, and oatmeal).  The coffee cakes are divine, the muffins, always dense and delicious, and that's just the tip of the iceberg.
They've got a lot to choose from, and it is all so good!  If you're in the neighborhood – give them a try, you won't leave disappointed!  At least we never do.