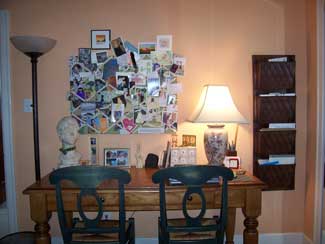 Have you ever played Jenga?  Just in case you haven't, it's the game that starts out as an orderly stack of wooden blocks that is eventually turned into a leaning tower of Pisa by the careful reordering of the pieces before crashing loudly down to the ground.  My desk looked like the aftermath of the crash until about ten minutes ago.
Only it wasn't just neat pieces of pine.  I had stacks of paper, tags, receipts, books, magazines, catalogs, fabric, jewelry, and a digital timer piled in that relatively small space next to my laptop – a veritable wonder of physics, I tell ya.  It's one of those things that drives me absolutely nutty, turning me into a three year old in dire need of a nap.  I am crazy tired and know I should go to bed,  but I'm seriously putting my foot down because there are so many other fun things to do!
It's silly.  I also know that it is quite avoidable.  If I took that extra moment longer to put something away, I wouldn't have any mess in the first place, yet I still don't do it and then want to tear my hair out when it looks so disastrous – sometimes!  See that?  I was getting a little gloomy there but decided to use my dime store word and presto change-o!  I feel so much better.
My desk surely does as well, now that it can actually see its surroundings – like the nice lamp and all the fun objects on the bulletin board.  Yep, I can hear it singing – "I feel pretty, oh so pretty, I feel pretty, and witty, and bright!"
Hooray for little cleaning frenzies!