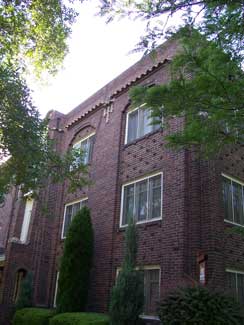 So, it's been a bit hectic around our casa this past week.  We got some new windows and started repainting the guest room walls and chest of drawers, which doesn't really sound like much, except for the fact that none of these jobs is entirely complete (for many reasons), and my house is a wreck – piles of junk everywhere, no window treatments on the windows, no screens on the windows either, so the house is muy caliente (no screens = closed window = hot), messy, and a general source of stress for this aspiring author.
Long story short, I had every intention of posting some glorious photos of our hard work, but since it is not done (soon!), and the lighting is too poor at the moment to show a work in progress, I started searching my photos for blog inspiration.
This is what I found – our first apartment.  For those big fans I'm going to have after my novel is finished – you can drive by the next time you are visiting Denver.  11th and Lafayette, two blocks west of Cheesman Park, two blocks east of Downing, walking distance Peter's Chinese, downtown, Cherry Creek, and King Soopers – the home of the long john.   For those who don't know, a long john is a bar doughnut that is filled with either a pudding, a white cream, or chocolate cream.  So delicious!  Why is there nothing like this in Portland?!  Mysteries abound.  It's probably better that way – I'd just eat them, and what good would that be to my thighs?
Anyhoo, we were the top corner unit.  It was a great apartment for us to start our life together – two bedrooms, neat French doors, great light, a cool faux fireplace, very nice.  Much, much better than the first building Gregory and I saw.   It was a horrible, serial killer-esque place on Washington – a Spanish style building, complete with creepy metalwork,  dingy white brick with excess blobs of mortar oozing out, hideous.  Gregory smiled at me and said, "I can see us living there."  Horrified (and seriously concerned about the sanity of my hubby), I burst into tears, and blubbered something pitiful, letting him know in no uncertain terms that this would NOT be our first home together.  Now, whenever we see a scary looking abode, we laugh and say, "I can see us living there."  Time really does heal all wounds.
We spent just over four years there, making friends, enjoying the neighborhood, going from having a card table, computer (come on – the G-man is a software guy), television, and bed, to owning an apartment full of stuff (these things are like bunnies) including a real wood dining table and chairs, a sofa, and of course, art!  It was a very happy time.