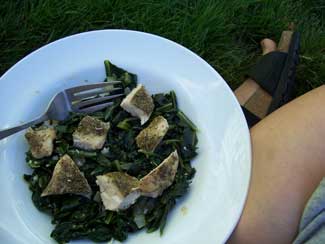 I never thought I was a greens person.  They've just never seemed terribly appealing, but then I decided I would try.  It wouldn't hurt to have a little more variety in my diet, would it?  No, and certainly not when prepared in this fashion along with some tasty roasted chicken.  Yum!
This serves two.
Chicken:
2 chicken breasts or thighs, patted dry
1 t dried herbs – I used a combination of rosemary, thyme, sage, basil, and oregano
1/4 t ground garlic
1/4 t salt
Greens:
1 large bunch of collard greens – about 1 pound
1 large clove garlic, minced
1/4 cup diced onion
1 T butter
1 t olive oil
salt and pepper to taste
Start heating the water for the greens – 3 quarts worth in a large pot.  Combine herbs and salt in a mortar and pestle, grind until very fine (optional).  Rub chicken with herb-garlic-salt mixture and bake at 375 until juices run clear, about 15-20 minutes.  Prepare the greens while the chicken bakes.
Make a chiffonade of the greens and rinse thoroughly to remove any dirt.  Add greens to the boiling water, and boil on low with the lid on for fifteen minutes.  Drain the greens thoroughly in a colander, set aside.  Heat a skillet over medium-high heat, add butter, olive oil, garlic, and onion.  Saute just until the onion softens before adding the greens.  Stir until garlic and onion are evenly distributed and the greens are heated through.  Add salt and pepper to taste.  For extra flavor, pour the pan juices from the chicken over the greens before adding the chicken.
Sit out on the lawn and enjoy!