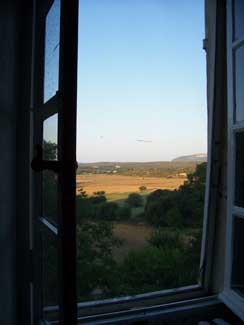 The other day, I mentioned how cleaning bugs out of ceiling fixtures was not on my top ten list of things to do, which got me wondering what really is on that list.  Here, with very little fanfare, is the run down.  I have not put them into a numerical order because, fussy girl that I am, it really depends on the day. 
* Spending time with my dear, sweet husband.
* Reading – books, magazines, blogs, newspapers, the occasional cereal box.
* Writing – my book, this blog, a note to a loved one, I like that creative time in my head.
* Watching movies – though I am fussy, only liking Colleen-style good movies like Drugstore Cowboy, The Natural, Amelie, and more!
* Spending time with friends, family, and the kitty cats
* Exploring – my neighborhood, Portland, the glorious U.S.A., the world.  The picture is from last summer's adventure at the Hameau le Roux in Lussan, France.
* Home keeping – I like it clean, tidy, and good looking!
* Cooking and Eating – sorry, a tie.  If I cook it, I want to eat it!  Me want food!
* Learning – I am curious as all get out and love, love, love to keep my brain energized.
* Exercising – Yoga, rowing, Nia, walking, biking, the eight minute variety…
What is on your list?