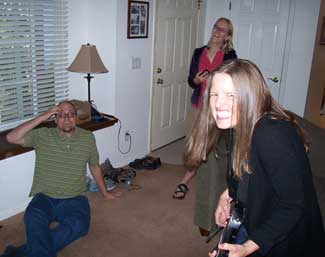 African Kelli asked what my favorite cookie is, and though I certainly do appreciate a gingersnap (her #1), particularly a spicy one, my current love has got to be my Triple Threat Peanut Butter cookies.  Man are they yummy!  My husband would prefer me replacing the peanut butter chips with chocolate ones, but then they wouldn't be a triple threat, and a double threat cookie with chocolate doesn't have that ring, you know?
I am posting this silly picture of me playing Guitar Hero (I am TERRIBLE!), along with my friends Jeff and Rena, rather than one of a mouth watering plate of cookies because I am on a cleanse/anti-inflammation diet, and, sadly, there are no cookies allowed and no peanuts either.  So, just know that this is the kind of smile produced while eating this yummy bit of goodness.
Enjoy!
3/4 butter, softened
1/2 cup natural peanut butter (unsweetened) – my all time favorite is Maranatha
1 cup sugar
1/2  t molasses
1 t baking powder
1/2 t baking soda
2 eggs
2 t vanilla
1 c flour
1/4 c whole wheat flour
2 c rolled oats
1/2 c chopped cocktail peanuts
1/2 c peanut butter chips (or chocolate if you don't want a triple threat)
Mix butter and peanut butter on medium speed until combined.  Add sugar, molasses, baking powder, and baking soda.  Beat until combined.  Beat in eggs and vanilla until combined.  Mix in flour by hand.  Stir in oats, peanuts, and the chip of your choice.
Drop dough onto an ungreased cookie sheet.  Bake at 375 for 8-12 minutes, until edges are lightly browned.  Carefully transfer to a wire rack (they fall apart easily when warm).
Eat up!