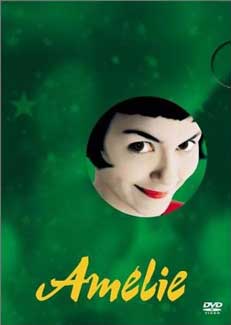 Here's another of my all time favorite movies, Amelie (hmm…wishing I could figure out how to make proper accent marks, tant pis).
Anyhoo, Amelie has all the elements I enjoy in film:
A good and believable story.  Who hasn't dreamed of ways to bring people happiness, make others behave with kindness, or fall in love?  It is told with wit, charm, and occasionally, a sharp knife-edge!  The characters are like people we know – eccentric, obsessive, dreamers, do-gooders, and curmudgeons, all with their own flair.
Beautiful cinematography – heavens to Betsy!  The use of saturated colors, beautiful set decorations, ace camera angles all make this story a gem to behold.
Top shelf acting – every character fully embodied by the actor, no kidding.   Audrey Tautou, the adorable Matthieu Kassovitz (he looks a little like the G-man), crotchety Serge Merlin as Mr. Dufayel, "et Lady Di…" Jammel Dubbouz, to mention a few.
A fine soundtrack – Oh yes, yes, yes!  Yann Tiersen is quite good at making kiddie pianos and everyday sounds like flipping paper charming.  I also love the old French standards like "Si Tu N'etait pas La."  I hum and sing along every single time.
Watch it and prepare to be charmed!